Next-Gen Protection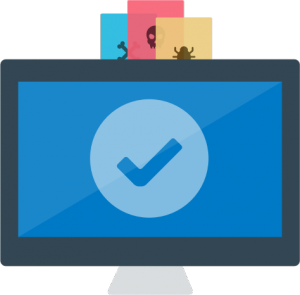 We're taking a new approach to protection. Sophos Endpoint blocks malware and infections by identifying and preventing the handful of techniques and behaviors used in almost every exploit.
Sophos Endpoint doesn't rely on signatures to catch malware, which means it catches zero-day threats without adversely affecting the performance of your device. So you get protection before those exploits even arrive.
By correlating threat indicators, Sophos Endpoint can block web and application exploits, dangerous URLs, potentially unwanted apps, and malicious code from ever touching your endpoints.
Decloaking Malware
Sophos Endpoint works on the device and in conjunction with the firewall to detect and isolate compromised devices. Synchronized Security gives you additional context providing information from the network.
Behavioral Analytics
Determines suspicious behaviors, allowing for the detection of malware specifically designed to evade traditional solutions.
Traffic Detection
Pre-filters all HTTP traffic and tracks suspicious traffic as well as the file path of the process sending malicious traffic.
Integrated Endpoint and Network
Instant and automatic communication between the Endpoint and Network alerts the suspected system of exactly what the firewall is detecting, allowing the endpoint protection agent immediate use of that information to discover the process behind the threat.

Stop Ransomware Before It Takes Your Files Hostage
Ransomware is the number one malware attack affecting organizations today. It encrypts your files and holds them hostage until the ransom is paid, causing massive disruption to business productivity.
Sophos Intercept X features CryptoGuard, which prevents the malicious spontaneous encryption of data by ransomware—even trusted files or processes that have been hijacked. And once ransomware gets intercepted, CryptoGuard reverts your files back to their safe states.
Root Cause Analysis Provides Insight on Threats
You've been hit! How did it get in, where did it go, what else did it touch and—most importantly—what should you do now? We've got you covered.
Detailed, forensic-level analysis illuminates the root causes of attacks and their infection paths, and offers prescriptive guidance to help remediate infections today and bolster your security posture moving forward.
Exploit Prevention Stops Modern Threats
The unique technologies of Sophos Intercept X are designed to stop attackers before they have a chance to throw their first punch.
Rather than examining hundreds of millions of known malware samples, Intercept instead focuses on the relatively small collection of techniques used to spread malware. This way, we can ward off zero-day attacks without having even seen them first.
So Fresh and So Clean
Along with Intercept X we provide a powerful virus cleaner. While most traditional virus cleaners simply remove offending malware files, Sophos Clean goes the extra mile by eradicating the malicious code and registry keys created by malware as well. It'll be like your machine was never infected in the first place.